Group Members
Lowen Peng, Anthony Sisti, Rajeshwari Majumdar
Supervisors
Phanuel Mariano, Masha Gordina, Sasha Teplyaev, Ambar Sengupta, Hugo Panzo
Overview
We study the Law of Large Numbers (LLN) and and Central Limit Theorems (CLT) for products of random matrices. The limit of the multiplicative LLN is called the Lyapunov exponent. We perturb the random matrices with a parameter and we look to find the dependence of the the Lyapunov exponent on this parameter. We also study the variance related to the multiplicative CLT. We prove and conjecture asymptotics of various parameter dependent plots.
Publication: "

Lyapunov exponent and variance in the CLT for products of random matrices related to random




Fibonacci sequences

" — arXiv:1809.02294,
Discrete Contin.
Dyn. Syst. Ser. B
25 (2020), pp 21
Presentations:
Raji Majumdar and Anthony Sisti, will present posters Applications of Multiplicative LLN and CLT for Random Matrices and Black Scholes using the Central Limit Theorem on Friday, January 12 at the MAA Student Poster Session, and give talks on Saturday, January 13 at the AMS Contributed Paper Session on Research in Applied Mathematics by Undergraduate and Post-Baccalaureate Students.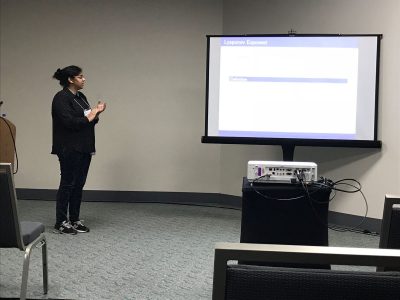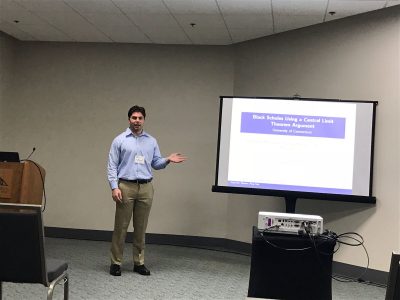 ---